What's happening at Contenders in July?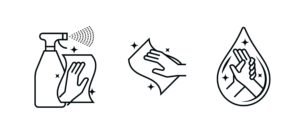 Dear Members of Contenders,
We hope you are doing well, and enjoying Vancouver's ever-changing weather! June was a great month as we were able to welcome our members back at the gym after staying closed for two and a half months due to COVID-19. Even though we still keep social distancing with no high fives or fist bumps, our camaraderie has not been lost, and we even feel closer to everybody after not being able to see them in person for a long time. Please note that we will be maintaining the same rules and protocols (*please see below) through July, and we thank you all in advance for your continued cooperation!
NEW MONTH! NEW SCHEDULE!
We are excited to announce our new schedule for July. Please click the links below, and let us know anytime if you have any questions.
ON-SITE CLASSES at 877 Hamilton Street (Click HERE for the schedule)
We will be offering Boxing Fundamentals on Monday at 4:15PM.
We will be adding another class on Wednesday at 6:45PM.
Please make sure to register for classes in advance. No walk-ins without registration will be allowed.
If you cannot attend the class you are registered for, please cancel your registration from your account as soon as possible to avoid No Show Fee.
ONLINE CLASSES on Zoom (Click HERE for the schedule)
We will be moving Tuesday 10AM class to Tuesday 7AM.
We will be adding Training Camps on Monday and Wednesday at 12PM.
UPDATE ON OUR BENTALL LOCATION
As many of you know already, our reopening at Bentall location is now expected to take place in August or September. We miss the ring to spar in, the steps to do straddle jumps on, and just everything about our old gym! Even though there have been a lot more bumps on the road than we had anticipated originally, we are getting close to the end of this journey, and we will stay positive, and will not take the support we have received from our members since the flood for granted. We hope you are as excited as we are about moving back to Bentall Centre in a few months!
CANADA DAY CLASS SCHEDULE
We will be offering an online class at 5:30PM on Wednesday July 1st. 12PM Online Class as well as 5:30PM and 6:45PM On-site Classes are cancelled.
If you have any questions, please feel free to reply to this email. Thank you & Happy Canada Day!
The Contenders Team
*Here are our rules and protocols to keep you safe at our Yaletown location.
Each class is available for up to 12 participants who reserve their spots in advance. We will not allow walk-ins in order to strictly maintain the class size. If there is no W next to the name of the class on our online calendar, it means the class has not reached its max capacity. If you have already attended or registered for two classes this week, but you would like to attend today's class that has not filled yet, please email us on the day of the class, and we will reserve a spot for you. Please note that the reservation is not considered complete until you receive a confirmation email from us.
In order to maintain social distancing at the gym, the changing room will be closed. You must arrive at the gym in your workout attire ready to go no earlier than 5 minutes before the start time of the class. We will provide you with a plastic basket in which you store your belongings, and you will be asked to place the basket on a designate spot in the classroom. We will be disinfecting the baskets after every class.
There will be no partner drills, or any exercises that require you to touch the floor with your hands. When you arrive at the gym, you will be assigned to a heavy bag that you will be using throughout the class, and you must not touch the bags that are not assigned to you.

Our water dispenser and rental equipment will not be available until further notice. Also washrooms will be for emergency use only.

Please monitor your health, and stay home if you show any symptoms of COVID-19. All of our staff members will be required to do the same.
---
Sign up for our free newsletter today, and be the first to be notified on our gym news & promotions!
To nominate your fellow Contender to be the next Contender of The Month, email us at info@contenders.ca. Don't forget to tell us why this person deserves the recognition!