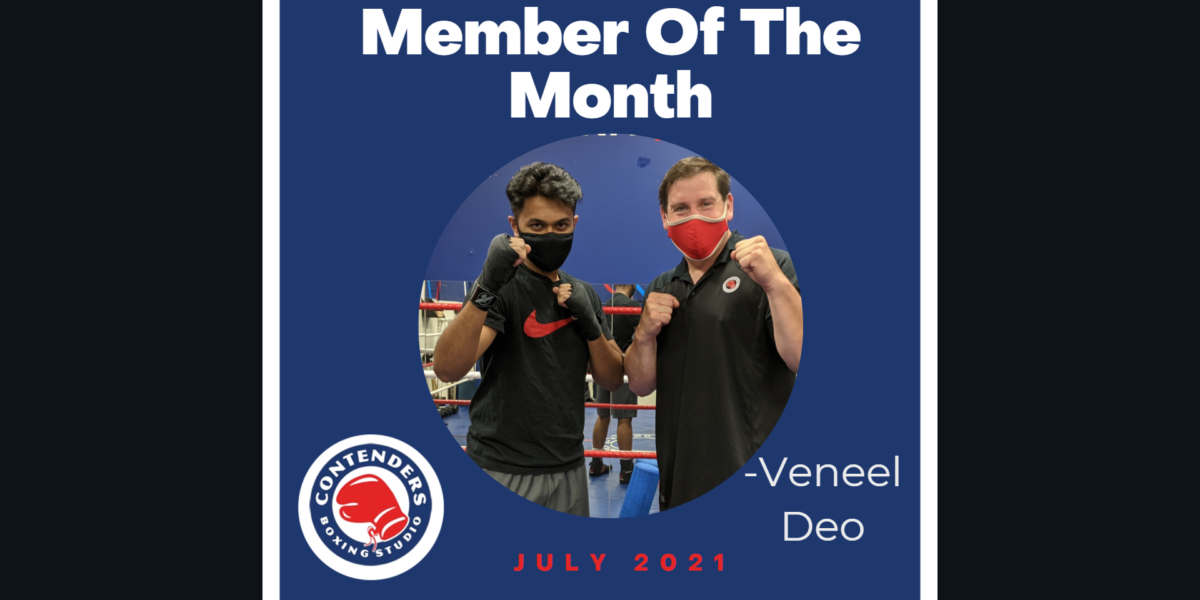 July 2021 – Veneel Deo
Our Contender of The Month for July 2021 is Veneel Deo. Veneel has been training at Contenders on and off for 3-4 years. Lately he has been putting a lot of effort into his training, and his boxing has improved a lot as the result. We are also excited that he has started sparring recently. Here is our Q&A with Veneel. Also, a quick shoutout to his brother and a former member of Contenders, Sheneel, who brought Veneel to try out our classes!
Q: Had you done boxing prior to joining Contenders?
A: I had never done any boxing or combat sports prior to Contenders.
Q: What made you want to join Contenders?
A: The main reason making me want to join was because of my brother. He always endorsed boxing and wanted me to try out a new sport. Unofficially speaking, I was done getting picked on by him too.
Q: Which is(are) your favourite class(es) at Contenders and what do you like about them?
A: My favourite class at Contenders would be the advanced boxing classes. They really help you develop technique and finesse that you can carry into sparring.
Q: What is your boxing/fitness goal you are working to achieve this year?
A: My boxing goal this year is to be able to get an amateur win before the year ends!
Q: What is your weakness in boxing/fitness you would like to improve?
A: My biggest weakness in boxing that I'd like to improve would be my conditioning.
Q: What/who inspires you to continue training? What kept you going during the pandemic?
A: My biggest inspiration to keep me continuing my training would be my family who is always supporting me and encouraging me to keep improving. What kept me going through the pandemic is the love I have for boxing. I love learning new techniques.
Q: What is your advice for people who are thinking of starting boxing at Contenders?
A: Just do it! From the moment you step inside the Contenders studio, you will feel that sense of belonging and will fall in love with the art of boxing. Plus, it's probably the best workout you can get.
Q: What do you like to do in your free time other than boxing?
A: During my free time you can catch me with the honeys or with my homies and family enjoying a drink or simply hanging out.
Q: Please tell us something about you that a lot of people don't know?
A: I can recite the lyrics to almost all of Drake's songs.
Follow Veneel on Instagram @Veneeldeo